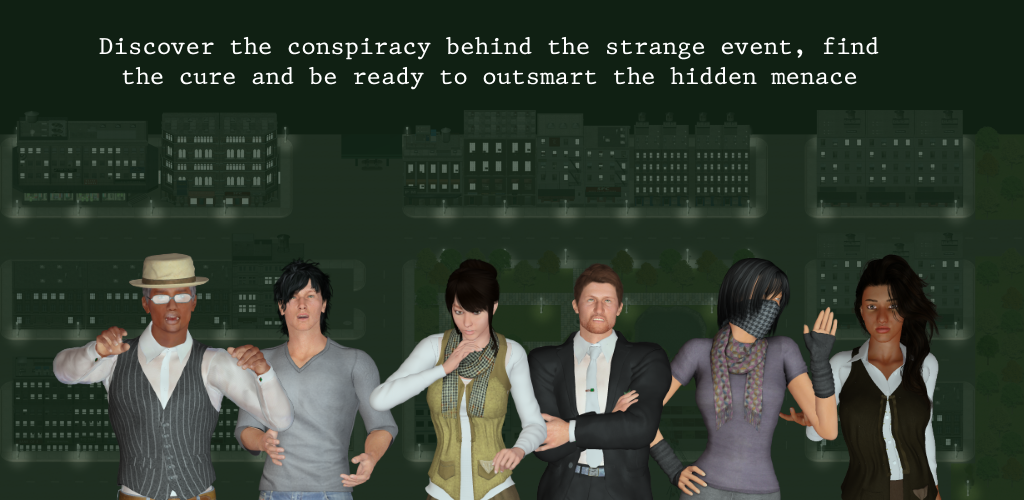 DC Anthology: Apocalypse
A downloadable game for Windows and Android
DC Anthology: Apocalypse contains Apocalypse story content which puts you in the role of the Seeker. Discover the conspiracy behind the strange event, help to find the cure for the infected and be ready to outsmart the hidden menace raising his armies to bring the world into the Dark Apocalypse.
Apocalypse story content is separated to 13 parts:
Part 1: Red Rain.
Part 2: Missing Person.
Part 3: Infected Dogs.
Part 4: Infected Human.
Part 5: Soaring Price.
Part 6: Mass Exodus.
Part 7: Deserted City.
Part 8: The Phantom Menace.
Part 9: The Dark Apocalypse.
Part 10: Military Arrival.
Part 11: Cure.
Part 12: Operation Salvation.
Part 13: Restoration of the City.
Currently, you can play Part 1 to Part 10. The upcoming update will add more additional content.
Features Available to All Story Contents

4 career paths (ad agency executive, lawyer, fashion designer or model)
job promotion (starts from low-level position and get promoted to the top as CEO)
plenty of part-time jobs at the restaurants and the port
scavenge trash bins to recycle items to sell
gain skill points by performing full-time job or attending class
40 places to explore (4 home type, 8 work places, 7 restaurants, 6 schools, 5 shops, 4 leisure facilities and 5 recreational facilities)
upgrade home with plenty of furniture
robust inventory system which allows to store and cook many food items
4 different vehicles to own (scooter, small car, sedan car and luxury car)
invest in 3 different mutual funds to build wealth (take advantage of the economy to buy low and sell high)
fight normal enemies (gangster, street thug, drug addict and gym trainer)
Features Available to Apocalypse Story Content
plenty of interesting and recurring tasks given by many characters which rewards money and improve relationship
fight special enemies associated with the apocalypse (angry person, agent and varieties of the infected)
Keyboard Control
Left/top/right/bottom key to walk
Enter to interact with object/character (! icon)
Space bar to cancel/stop action
During dialog, press space bar to move to the next dialog
System Requirements (Windows Version)
Windows 7/8/10 (32 bit or 64 bit)
System memory 2 GB+
Minimum HD resolution (1280 pixels x 720 pixels) monitor
60 MB+ free hard disk space
System Requirements (Android Version)

Android 4+
System memory 1 GB+
Install instructions
1) Extract dream-city-apocalypse-win.zip to any folder.
2) Inside the game folder, double click DCApocalypse.exe to play the game. The game comes with Adobe AIR captive runtime so you don't need to install anything else.
Also available on